EUGENE "DEBBS" POTTS
(1908 - 2003)

FOUNDER OF POTTSVILLE - HOME OF OREGON MEMORIES

"I want to perpetuate a place where a poor man or rich can go to look at things for free, and maybe learn a little about Oregon history. People need to understand our past."
~ Debbs Potts, 1998

"Things I have done and belonged to as of November 16, 2003"


Mayor of Grants Pass 1958 to 1960

Oregon State Senator for Josephine County 1961 - 1984 (24 yrs.)

As Senate President from 1968 - 1972, Debbs served as acting governor whenever Governor Tom McCall traveled outside Oregon. During his tenure as Senate president, Potts served as Oregon's governor a total of 196 days.

Chairman of the Oregon Lottery Commission 1985 - 2003

Co-founder of Rogue Community College

Co-founder of Southern Oregon Historical Society

Occupations

Airborne Photographer U.S. Forest Service 1935 - 36, Surveying So. Oregon/ Northern California

Ran sawmills for 3 years at O'Dell Lake, OR for the railroad

Owned/ operated sawmills in Klamath Falls, Lake of the Woods, Bonanza, Keno, Upper Klamath Lake near Pelican City

Owned/ operated a sawmill and planing mill at Pottsville

Military

Spent 3 years during WWII with the U.S. Navy

20 years active Naval Reserve

50 years U.S. Fleet Reserve

50 years member American Legion

50 years member Veterans of Foreign Wars

Honorary member of U.S. Young Marines

Honorary member of U.S. 186th Infantry

Organizations

Chief Bighorn Oregon Cavemen 1955

Goodwill Ambassador for Golden Gate Association

20 years member Merlin Business Association

40 years member Grants Pass Rotary Club

40 years member Tri-State Association (California, Oregon, Washington)

45 years member Redwood Empire Association

60 years member Elks #1584, played Santa Claus for 55 years

60 years member North Pacific Grange near Pottsville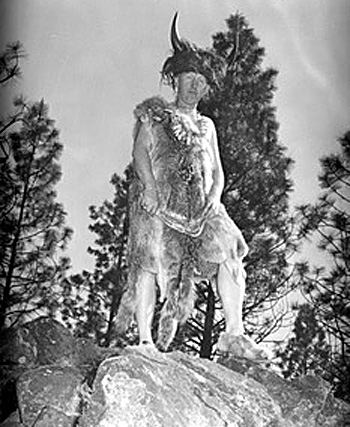 Debbs as Chief Big Horn

The Oregon Cavemen began in 1922 when a group of businessmen in Grants Pass came up with a novel way of promoting tourism in Josephine County. They did this by dressing up as cavemen, pretending to be descendants of the Neanderthals. Dressed in furs, with horsehair wigs, and buck teeth, the Cavemen were known for their zany antics like capturing people from the crowd during parades, abducting visiting celebrities or playing a prank or joke under the direction of a mysterious Chief Bighorn. Debbs Potts held the position of Chief Big Horn in 1955. In an initiation that included eating raw meat and drinking "the blood of the saber-toothed tiger" ( Snappy Tom, served in a Coke bottle wrapped in a skunk skin ), the Cavemen welcomed governors, senators and state attorney generals to their ranks. Honorary members included Babe Ruth, Henry Ford, James Stewart, Shirley Temple, John F. Kennedy, Richard Nixon, and Ronald Reagan.
Oregon is one of five states that does not have a Lieutenant Governor's position. Until 1972, whenever a governor would travel out of state or be incapacitated in any way, the Senate President would become "Acting Governor". As Senate President between 1968 and 1972, Debbs Potts served a total of 196 days as "Acting Governor".

This picture of Debbs in front of the Blacksmith Shop was taken by Paul Fattig of the Medford Mail Tribune in 1998. Debbs was 89 years old.

After Oregon voters approved a state-run lottery in 1984, Gov. Victor Atiyeh asked Debbs Potts to become the first chairman of the Oregon Lottery Commission. Debbs served as the commission's chairman for 19 years from 1985 until 2003, helping the lottery become the state's second largest source of general fund revenue. Debbs passed away two weeks after retiring from the lottery commission at the age of 94. In 2005, the Oregon legislature directed that the Oregon Lottery Commission building in Salem be officially named the Debbs Potts Oregon State Lottery Commission Building.